Arm Lift
Conveniently serving Jefferson City
Wave with Confidence
An arm lift, or brachioplasty, is a surgical procedure that:
Reduces excess sagging skin of the underside of the upper arm that droops downward
Tightens and smooths the underlying supportive tissue that defines the shape of the upper arm
Reduces localized pockets of fat in the upper arm region
Fluctuations in weight, growing older, and heredity can cause your upper arms to have a drooping, sagging appearance. This is a condition that cannot be corrected through exercise.
Arm lift surgery may be right for you if the underside of your upper arms are sagging or appear loose and full due to excess skin and fat.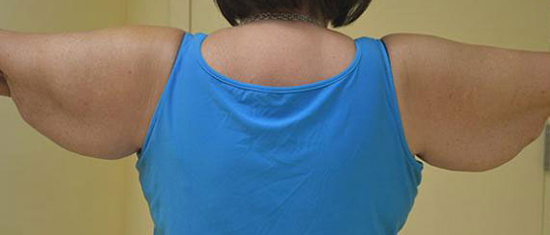 * Individual results may vary.
Photo Gallery
View before-and-after pictures of real patients of Barbara Howard, M.D.
Reviews
Thank you so much for what you have done for me! I did all the work I could do, but you did for me what I could not. I could not have asked for a better experience or doctor than you. I love how you sincerely care about your patients and go that extra mile. Once I met you I knew you were the doctor for my surgery! It takes a special person to do what you do! Tummy Tuck Patient
Procedure
Incisions are generally placed on the inside of the arm or on the back of the arm, and may extend from the underarm to just above the elbow. If fat is to be reduced during your arm lift, it will be excised or treated with liposuction.
Recovery
Following your surgery, bandages or wraps may be applied and your surgeon may recommend you wear a compression garment to minimize swelling.
The smoother, tighter contours that result from an arm lift are apparent almost immediately, although initial results will be somewhat obscured by swelling and bruising. Your new shapely, toned upper arm will be dramatically improved in both appearance and feel. You will find that shirts with short sleeves or sleeveless will look and fit so much better.
Call today to schedule a consultation. Your new wardrobe is waiting!