Fat Transfer
Conveniently serving Jefferson City
A Lift in Your Confidence
Autologous Fat transfer uses a person's own fat from a donor site, usually the abdomen, and the fat is then used to plump up and resculpt areas of the face by adding volume. This procedure can be done alone or in conjunction with other facial surgical procedures in our Jefferson City, Missouri office.
The most commonly treated areas for fat transfer include frown and laugh lines, brows, temples, tear troughs, furrows around the mouth, chin, cheeks, jawline, backs of hands, and indents created by trauma. Areas other than the face that may be treated include the breasts and buttocks, as well as any area where volume needs to be restored to correct a defect.
As we age, areas of our face are pulled down by gravity and we may actually lose the plump look of our cheeks, upper eye area and around the mouth and lips. Many people have chosen injectable fillers such as Restylane and Juvederm to address this problem. Fat transfer uses your own fat and is considered to be much longer lasting than any filler on the market, and in some cases may even be permanent. Fat transfer also allows the surgeon to obtain a larger volume of injectable material than would normally be available or at least cost-effective via pre-packaged fillers.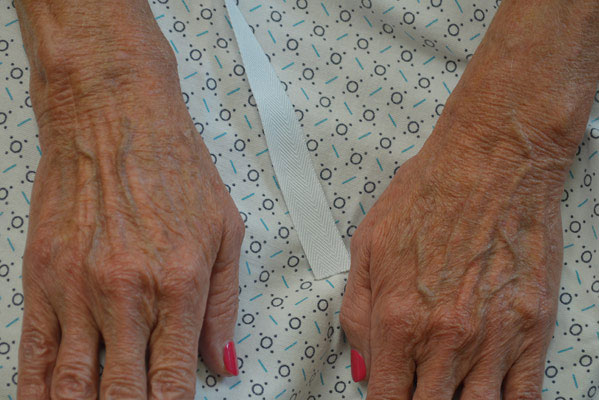 * Individual results may vary.
Photo Gallery
View before-and-after pictures of real patients of Barbara Howard, M.D.
Reviews
I have to say a big 'thank you!' You gave me my confidence back. I can now look in a mirror! That is a big thing for me. I can't thank you enough. Botox® Cosmetic Injection Patient
Am I a Good Candidate for a Fat Transfer?
The best candidates for a facial fat transfer procedure are healthy individuals who have enough excess fat to transfer. This is a good option for people who want to avoid more invasive surgical procedures or who want longer-lasting results than fillers can provide.
Smoking must be stopped for 4 to 6 weeks before and after the procedure, and drinking alcoholic beverages should be avoided for at least 48 hours before and after a fat transfer. Medical conditions affecting healing can result in a higher chance of complications, so it will be necessary to arrange a consultation to confirm that this procedure is safe for you.
Your Fat Transfer Consultation
A facial fat transfer consultation will involve a conversation between you and Dr. Howard. The techniques to be used during the procedure will be discussed, and Dr. Howard will help you set realistic expectations in terms of your results.
Dr. Howard will ask about your appearance goals and answer all of your questions about fat transfer surgery. Provide your complete medical history to help Dr. Howard plan your procedure and ensure excellent results.
The Fat Transfer Procedure
The area of the donor site is injected with a numbing fluid and liquefying agent, and then the fat is gently suctioned out of the area. Care is taken to only harvest small amounts of fat in any one area so that the donor site will remain smooth. The fat is then processed by removing all the fluids and leaving only the fat cells. The last step is to reinject the fat into the facial areas where plumping is needed creating a more youthful appearance. To ensure greater comfort during the procedure, often a light anesthetic is used.
After your procedure, you will experience some swelling and bruising which can be controlled by icing and keeping the head elevated. The donor area may be sore, but this discomfort is usually controlled easily with Tylenol or mild pain medication. Most people are able to return to work 2-3 days after surgery with some concealer makeup.
Benefits of Fat Transfer Treatments
You will immediately notice a smoothing of treated wrinkles and folds. After the swelling subsides, your overall appearance will be more plump and youthful and look very natural. Your cosmetic results may last up to several years, and some of the graft may actually be permanent. Your desired results can be maintained by replenishing the area with fillers or more fat as needed. Fat transfer uses your body's own substance and can offer more volume and permanent benefits than traditional fillers.
How Much Does a Fat Transfer Cost?
The fat transfer treatment is a fully customized procedure designed with a patient's unique needs in mind. The overall cost depends on the amount of fat that needs to be transferred to a given area and the overall complexity of the procedure. Dr. Howard will develop a personalized treatment plan to address your needs and discuss the associated cost during your consultation
Contact Our Office
If you're interested in learning more about the fat transfer treatment in Jefferson City, Missouri, contact our office to schedule a consultation with Dr. Barbara Howard. Dr. Howard will gladly answer any of the questions you have and help guide you through the entire process