Tummy Tuck
Conveniently serving Jefferson City
Restoring Your Shape
Have loose skin and stubborn fat that you just can't get rid of despite being consistent with your workout routine or diet plan? A tummy tuck surgery is exactly what you need to fight back that stubborn fat and claim the body you've always wanted.
What is a Tummy Tuck?
A tummy tuck is a
surgical procedure
designed to recontour the abdominal area and deliver well-toned, sculpted abs. During the procedure, excess stubborn fat will be removed and the remaining tissues will be recontoured to fit the newly formed abdominal contours. The surgery is ideal for those who have been struggling to eliminate fat and skin after losing a significant amount of weight or giving birth.
What is a Fleur-de-Lis Tummy Tuck?
Fleur-de-lis abdominoplasty
is a highly specialized tummy tuck technique used to remove skin both horizontally and vertically, typically for patients who have had a significant weight loss.  It creates two separate scars–one horizontally across the lower abdomen and one vertically along the midline, resulting in an upside down "T" scar pattern. The goal of the fleur-de-lis technique is to remove significant skin excess and narrow the waistline to provide the best appearance for the patient.  Commonly, these patients have lost 100 pounds or more and are left with massive skin excess of the entire abdominal region.
View Before & After
The Tummy Tuck Procedure
Abdominoplasty is usually performed under general anesthesia either within the hospital or in an outpatient setting. There are different tummy tuck techniques to help accommodate the needs of each individual patient. The Mini abdominoplasty tightens the lower abdominal wall skin only (shortest scar). Also known as a partial tummy tuck, the mini-abdominoplasty is suitable for those who only require a minor degree of corrections. The incision is smaller and the recovery time is much faster than the traditional tummy tuck procedure. (Mini abdominoplasties can be performed under sedation and local anesthesia.) The standard abdominoplasty is the traditional technique that is used in most moderate cases of stubborn fat and loose skin in the abdominal region. In some cases,
liposuction
may also be used in association with this method to rid the body of stubborn fatty deposits. This procedure can help tighten the abdominal wall skin and muscles in the area. The extended abdominoplasty method tightens the abdomen and the flanks or sides and muscle (longest scar extending around the flanks onto lower back).
What to Expect Before the Procedure
Special instructions you receive will cover:
What to do on the day of surgery
The use of anesthesia during your tummy tuck
Post-operative care and follow-up
The decision to have tummy tuck surgery is extremely personal and you will have to decide if the benefits will achieve your goals and if the risks and potential complications are acceptable. Patients who are at their best health and weight at the time of surgery tend to have the best outcomes. Your plastic surgeon and/or staff will explain in detail potential tummy tuck complications. You will be asked to sign a consent form to ensure that you fully understand the procedure and any risks or potential complications.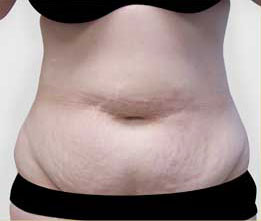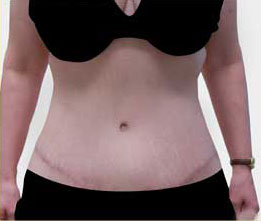 * Individual results may vary.
Photo Gallery
View before-and-after pictures of real patients of Barbara Howard, M.D.
Reviews
Thank you again Dr. Howard! It's been a year now since the almost 9lbs was removed from my lower abdomen…the BEST thing I've ever done!! It's hard to keep my weight down, but I'm working hard at it. I certainly have a lot to be grateful for! Tummy Tuck Patient
Candidates for the Tummy Tuck Surgery
You may be a candidate for a tummy tuck (abdominoplasty) by 
Dr. Howard
if you have loose or sagging abdominal wall skin that is frequently associated with abnormal relaxation of the anterior abdominal wall muscles (often secondary to multiple pregnancies or prior surgery). You may also desire a tummy tuck if you are unable to tighten your abdominal wall skin with exercise. An abdominoplasty is intended to give the patient a smoother flatter abdomen. The specific risks and the suitability of abdominoplasty for a given individual can be determined only at the time of consultation. All surgical procedures have some degree of risk. Minor complications that do not affect the outcome occur occasionally. Major complications are unusual.
While planning your tummy tuck procedure, you need to consider the recovery process as well. Your recuperation depends on several factors, including your age, body weight, and general state of health. It will also depend on what type of tummy tuck surgery you are having. You might want your body to bounce back immediately after the procedure, but you will have to take some time off your normal activities so your body can heal. Once you leave our facility, your recovery process begins. We'll provide you with
post-care instructions
that you will need to adhere to in order to experience a fast recovery after the tummy tuck procedure. For the first couple of days after the procedure, you might have to sleep on an incline. You need to keep your upper body slightly raised with knees bent at an angle as it helps in reducing swelling. Put pillows below your knees to take some pressure off your abdomen. After the surgery, you have to keep moving. light walking is essential as it will ensure that you have proper blood flow that improves the healing process and reduces the chances of a blood clot formation in your legs. Dr. Howard will tell you about an optimal resting position that will make you feel comfortable. Since you might feel tired for a couple of weeks after the treatment, it is important that you get as much rest as you can. Returning to some light physical activities can take two to three weeks but you should make sure to limit your strenuous activity for about four to six weeks. We'll provide you with details about what activities you can do during your recovery and how much time you need to take off of work.
Contact Our Office
A tummy tuck is an excellent solution for those who are dealing with excess stubborn fat and loose skin in the abdominal area. If you're interested in learning more about the surgery from a board-certified plastic surgeon, call Barbara Howard, M.D. in Jefferson City, at (573) 635-9668 to 
schedule your personal consultation.