Facelift & Neck Lift
Conveniently serving Jefferson City
Enhance Your Beauty
A facelift, also known as rhytidectomy, is a surgical procedure that can help to reduce the visible signs of facial aging. Board-certified plastic surgeon Dr. Barbra Howard performs facelift and neck lift surgery for patients in Jefferson City.
Combining the Facelift and the Neck Lift
A facelift can lessen the sagging on the cheeks and jawline and the deepening fold lines between the mouth's corners and the nose. A neck lift can remove jowls, a double chin, and excess fat and loose skin on the neck.
Together, a facelift and neck lift can reduce the signs of aging, creating a younger look for your face and neck. Combining these two cosmetic procedures is an excellent way to achieve comprehensive rejuvenation.
Am I a Good Candidate for a Facelift and Neck Lift?
You may be a candidate for facelift (rhytidectomy) and neck lift if you have experienced a loss of skin elasticity and muscle tone of the face and neck. A facelift and neck lift may also be desirable if you have the appearance of jowls, loose skin, and/or neck wrinkles.
A facelift and neck lift may also be helpful if you believe you lack youthful chin and neck contours and/or feel you have a tired facial appearance. A combination facelift and neck lift is intended to give the patient a more rested and youthful contour to the face and neck.
Undergoing a facelift and neck lift is not ideal if you have severe medical conditions, such as diabetes and high blood pressure. Those taking blood thinners should stop using them for at least a week before the procedure as directed by their doctor.
The combination facelift and neck lift procedure is not suitable for those who smoke. This is because smoking negatively affects the health of the skin. If you smoke, you will need to quit in the weeks before the surgery. You will also need to avoid smoking during your recovery process.
The Different Types of Facelifts
Facelifts range in size from "mini" to "standard" depending on location and extent of skin laxity. The operation is done on an outpatient basis under local anesthesia with sedation, or under general anesthesia.
Incisions are made within the hairline (or along the hair margin) above the ear, extending down around the lobe and ending in or below the hairline behind the ear. The subcutaneous layers and neck muscles are tightened, the facial skin is redraped and lifted, and the excess skin is removed.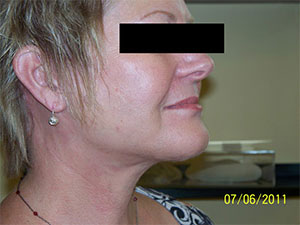 * Individual results may vary.
Photo Gallery
View before-and-after pictures of real patients of Barbara Howard, M.D.
Facelift and Neck Lift Recovery
The patient goes home with head and neck wrapped in dressings, which are usually removed the next day. Dr. Howard may recommend that you wear a compression wrap for a week or two following surgery. Expect some neck soreness and stiffness after the procedure. Minimal initial discomfort is easily controlled with oral medication. Sutures are removed within 14 days. Bruising and swelling decrease to "socially acceptable" levels in 10-20 days. The final result of a facelift procedure is evident in 4-6 weeks or sooner, with continued improvement for several months. Additional procedures that would enhance the result of a facelift are: Eyelid Lift, Brow Lift, and Fat Suction.
Reviews
Dr. Howard was more understanding and sincere, than other doctors. I didn't feel like 'just another person'. Very comforting. A.B.
What You Should Know Before Your Facelift and Neck Lift
The facelift and neck lift procedures are considered cosmetic and therefore are not covered by insurance. The patient is responsible for payment. The price of a facelift and neck lift are usually impacted by anesthesia fees, the exact techniques used, total surgical time, and more.
The specific risks and the suitability of a facelift (rhytidectomy) and neck lift procedure for a given individual can be determined only at the time of consultation. A recent physical exam and control of all medical conditions (such as heart disease, diabetes and hypertension) is required prior to surgery.
All surgical procedures have some degree of risk. Minor complications that do not affect the outcome occur occasionally. Major complications are unusual.
Schedule a Consultation for Your Facelift and Neck Lift
If you are unhappy with the aging appearance of your face, it may be time to get a facelift and neck lift. Call Barbara Howard, M.D. in Jefferson City, at (573) 635-9668 or click here to schedule your personal consultation. Dr. Howard can address any question you may have about the facelift and neck lift in Jefferson City and can provide you with the care you need.