Mommy Makeover
Conveniently serving Jefferson City
A Refreshed Appearance
A Mommy Makeover is designed especially for women, who after pregnancy, are not happy with the way their body has changed. Pregnancy can alter the shape of and skin around breasts and abdomen, making it very difficult to return to the body's pre-pregnancy shape. The surgery usually includes a tummy tuck to restore the abdominal wall muscle and most often a breast augmentation or a breast lift, or both!
How Much Does a Mommy Makeover Package Cost?
The cost of a mommy makeover package varies from patient to patient and depends on the procedures involved. We offer a range of mommy makeover packages, including:
Package 1: Breast Augmentation and Liposuction Most patients could expect to spend in the range of $9000-$12000
Package 2: Breast Lift and Tummy Tuck Most patients could expect to spend in the range of $18000-$22000
Package 3: Breast Augmentation and Tummy Tuck Most patients could expect to spend in the range of $17000-$20000
Each package is designed to accommodate the unique needs of each individual who decides to undergo the procedure. Dr. Howard will take care to address your most pressing concerns as she develops a surgical plan that's tailored to your unique bodily contours.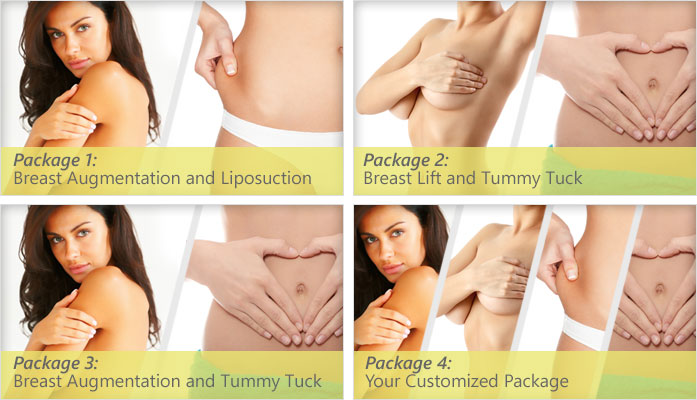 If your surgeon feels it is safe for you to combine multiple procedures into one surgical setting, you could benefit from added cost savings and a single recovery period.
Reviews
"We were extremely impressed with Dr. Howard and staff…explained things very well. All were so happy and fun to be around. I'm very happy that I chose Dr. Howard to do my procedure! Thank you all from the bottom of my heart!"I just wanted to send a huge thank you to your entire staff! I've never dealt with such a professional and genuine medical group. You EACH know that placing people before the "job" is so important! The transformation process isn't an easy one to come to terms with, but I couldn't be more pleased with every aspect of my journey from start to finish! Thank you beyond words! K.W. Mommy Makeover Patient
Developing Your Mommy Makeover Package
The tummy tuck involves surgically removing excess fat and skin around the abdomen, as well as tightening the abdominal wall muscles. A horizontal incision is made with a full tummy tuck in the area between the pubic hairline and navel. Incision sizes vary depending on how much skin is to be removed. A mini tummy tuck is isolated to the area below the navel with a shorter incision. It is common for liposuction to also be performed with a full or mini tummy tuck. If you undergo breast surgery such as a breast lift and breast augmentation, the incision patterns will vary. Patient and Surgeon preference in relation to the size of the implants along with the amount of excess skin and the degree of lifting required determines the incision. The excess skin is surgically removed, raising the nipple and tightening the breast tissue. If there is a significant amount of excess fat that needs to be addressed, we may consider implementing liposuction in order to trim down those areas that are prone to accumulating stubborn fat. Our goal is to ensure that our patients can achieve a look they can carry with confidence and will only suggest procedures we feel you could truly benefit from.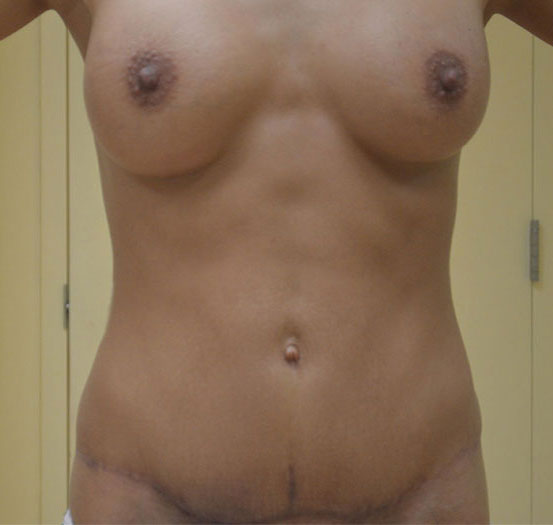 * Individual results may vary.
Photo Gallery
View before-and-after pictures of real patients of Barbara Howard, M.D.
Recovery
The first few days of recovery will require help. No driving for several days, and you must refrain from physical activity for a few weeks. It is important to not subject your incisions to excessive force, swelling, motion, or abrasion during your recovery time.
Candidates for the Mommy Makeover
Each mommy makeover package is an individualized procedure designed to help moms reclaim their pre-pregnancy bodies. Dr. Howard will work with you to discuss the various mommy makeover packages she offers in her Jefferson City office. She'll then assess your body to help determine which procedures can help and ask about your medical history. Patients should be in good physical health and have realistic expectations about the procedure.
Contact Our Office
Mommy makeovers are ideal for women who desire a comprehensive enhancement to their bodies. If you think you are good candidate for the Mommy Makeover, call Call Barbara Howard, M.D. in Jefferson City, at (573) 635-9668 to schedule your personal consultation!